A CASE STUDY
Creating the world's most sophisticated MEMS Device
Learn how Atomica (formerly IMT) and Miltenyi Biotec designed, developed, and manufactured a cutting-edge, ultra-fast, microelectromechanical systems (MEMS)-based chip for sorting live biological cells.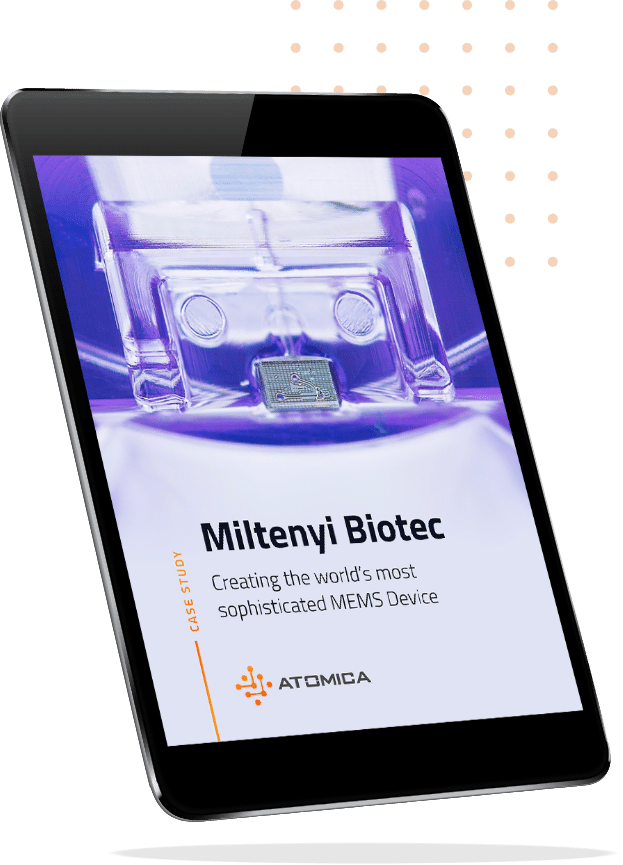 Designing tomorrow's great technology solution often requires years of dedicated effort from teams with interdisciplinary expertise and a variety of experiences. Here we explore the story of one such quest. The result? One of the world's most sophisticated MEMS devices that is nonetheless manufacturable at high volume.
Cutting-edge biomedical research and therapies require cell sorting
Biological cells are the foundation of cell-based diagnostics and therapies, with each effort requiring an enriched—perhaps even pure—population of live cells. Cell sorters are the critical machines that quickly and accurately isolate immune cells, stem cells, and cells from other tissues.
"Because process and design are so tightly coupled, it's essential to be able to work hand-in hand with your production partner. IMT is unique in allowing such close collaboration."
John Harley - President, Owl Biomedical, a Miltenyi Biotec company
The problem: rapid
and

gentle microfluidic cell sorting

Accessability and improved handling can be readily addressed with sensible designs for both the instrument and a sealed plastic cartridge made by injection-molding, but the cartridge must include a miniaturized high-speed cell sorter, capable of 10,000+ cell/s sorting speeds seen in gold standard conventional sorters. In addition, to provide the critical advantage of improved cell viability, the on-board sorting must be under gentle conditions; the cell sorter could not operate with the same high pressure, high shear, charge-based sorting principle as for conventional sorters.
Atomica Solution: ultra-fast MEMS cell sorter development at Atomica
The technical solution was to create a MEMS-based cell sorting microfluidic chip that required the development of a magnetically actuated valve with record-setting speed to mechanically sort the cells in the stream. Sorting by mechanical valving at low pressure in a sealed microfluidic chip instead of by electrical charged droplets in an aerosol from a high pressure stream would afford both the sorting speed and gentle conditions that make the Miltenyi Biotec product a disruptor in the cell sorter product segment.
The Outcome
The teams at Atomica (formerly IMT) and Miltenyi Biotec have jointly produced the world's fastest microfluidic valve, matching the cell-sorting speeds of conventional, large-footprint droplet-based FACS machines and more than doubling the speeds of competing microfluidic cell sorters. Atomica reliably fabricates the key valve component to critical performance specifications that underpin the value proposition of the Tyto®'s high-speed valve.
About the company
Atomica (formerly Innovative Micro Technology) is an expert at navigating design trade-offs to deliver a product that meets technical and economic specifications. We have been developing and manufacturing MEMS for 20+ years. With our advanced processing facilities and extensive toolbox, we can enable cutting-edge MEMS products. Our extensive experience spans the full spectrum of MEMS, including optics, sensors, switches, and microfluidic biochips. Atomica partners with our clients to get the best of both worlds: world-class development and high-volume manufacturing.
Download our Miltenyi Biotec Case Study to learn how Atomica helps our partners bring their innovative MEMS, photonic circuit, sensor or biochip to life.